Friday and Saturday are the days I go visiting my online neighbors. A number of ladies in the blogosphere hold open houses or 'Link Parties' where every one comes together, shares their latest posts and then go off to visit the others at the party. It's a great way to meet new friends and to catch up with current ones. It's like dropping on for a cup of tea.There are three parties I visit on a weekly basis and I want to share them with you today.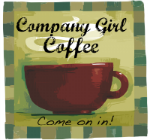 You've heard me speak of
Company Girls Coffee
hosted by the wonderfully talented
Rachel @ Home Sanctuary before. She was the first link party I ever joined and it's been fun. Rachel blogs about how er can do 'A Simple Thing' each day to help us organize our homes and our lives. Her partner in this is Flash her pet donkey (yes donkey) who provides us with lots of laughs and life lessons.
The second party I attend is
Caffeinated Randomness hosted by Michelle @ Lost in the Prairies. I knew Michelle and I were kindred spirits because of our love of Starbuck's and her bright humor. Today she posted about being "A Hot Mess'. It was very real and very touching. She really got me on that one.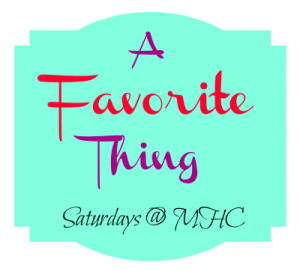 The third party I attend is a new one called
'A Favorite Thing' hosted by Claudia @ Mockingbird Hill Cottage. Claudia caught my eye because she collects McCoy pottery which I have inherited a lot of from my grandmother. She started her party a few weeks ago - restarted actually- and it's been a great success with everyone able to highlight one favorite thing each Saturday. It's the first thing I turn to on Saturday Morning usually in bed with a cup of tea. Great way to start the weekend.
Won't you join me on my visits this weekend? Stop in and say hello to Rachel, Claudia and Michelle. I'm sure you'll enjoy it as much as I do.
See you there!